Total cost of ownership.
The solution to decarbonise cannot come at the expense of competitiveness.
Here at Arxax, a few things have become very clear:
Any decarbonisation solution for the freight & logistics industry needs to make both economic and environmental sense.
The solution to decarbonise cannot come at the expense of competitiveness, risk of losing customers, and seriously affecting a fleet owners' bottom line.
It needs to support strategic routes which keep the supply chain moving, while hitting decarbonisation goals.
The solution needs to involve the full supply chain, no company or fleet operator can achieve this in isolation.
The only solutions that will be adopted by the freight industry are ones that can give them a reasonable return when they look at the total cost of ownership, not simply comparing truck prices or fuel prices.
But, we are getting ahead of ourselves. Let us take a step back. As we all know, there has been a steady pressure mounting for the freight industry to decarbonise, and recent geopolitical events have highlighted the current over-reliance on imported fuels, and the need to turn to greener, cleaner and more localised fuel supplies.

In theory, this is correct, and everyone agrees. The EU has signed up to the goal of achieving a 90% reduction in transport-related greenhouse gas emissions by 2050. There are a number of key transport related strategies to achieve this goal, including moving freight to waterways and rail, support for low-carbon and clean fuel production, support for infrastructure, and also very recently proposed changes to reduce toll charges for cleaner heavy-duty trucks. There are substantial EU, national and regional funding rounds open and on-going; there are conferences, support agencies and innovation and accelerator programmes all aimed at supporting public bodies and private industry to work toward these goals.

The freight companies themselves are also eager to reduce their greenhouse emissions. Sales in LNG Trucks have increased dramatically, orders for Fuel Cell trucks are growing and more OEMs are committing to deliveries over the next few years. Hydrogen refuelling stations are starting to pop up with more frequency, albeit geographically clustered, but there is progress.
We have talked to the freight companies
We went out and talked to these freight companies. We know they want to decarbonise, but we also know that it has to make financial sense for them. The vast majority of freight companies are not in a position to invest big budgets into decarbonisation. They are trying to remain competitive today with the astronomical oil and gas prices and pressure to keep customer prices down. A heavy-duty truck has an operating cost of around €250,000 per year, with over 30%-60% of these costs going on fuel alone, depending on their fleet size and operational efficiency. The percentage rises when fuel prices increase (2021 and 2022 are prime examples). As a general rule of thumb, the smaller the fleet operator, the higher the percentage of standing cost they have.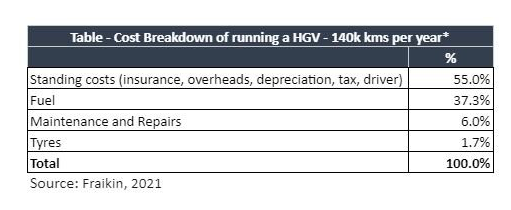 Buying a fuel cell truck will almost certainly mean a rise (in the short-term) of these costs. The truck itself will be more expensive, maintenance costs will remain static or more likely increase, and green hydrogen is not seen as being cost competitive with diesel (at least until very recently before oil prices hit a high $130/140 per barrel).
So, how do we make
going green make sense?
We need to look at the total cost of ownership for cleaner and greener fleets on the road.
This means looking at the full value chain from well to wheel, and how those fleets are actually managing their fuel strategy.
This is the Arxax solution.
We are making hydrogen-powered freight and logistics a reality. We are in the planning phase of a ground-breaking project in central Europe to showcase that hydrogen is an economically and logistically viable solution for the freight and logistics industry. Our solution offers:
optimally located Arxax refuelling hubs on key freight corridors, which means that we do not waste CAPEX on setting up infrastructure on every corner..
Fewer Hubs means more efficiency, in that we have fewer operating costs, and we can maximise the capacity of each Hub.
Using proprietary software, designed to find the optimal pathways for fuels to be sourced and delivered to our hubs from local, decentralised sites of production.
Analysing the fuel consumption at an individual truck level, which means we can predict fuel costs for the fleet owners, ensuring transparency for our customers, and ensuring that we can accurately forecast our demand to deliver an uninterrupted fuel supply to our customers.
The winner is the customer, because they are not paying higher fuel costs to help us pay back the cost of building and running under-utilised stations. They are benefitting from our business model which looks at making the cost of sourcing fuel, delivering it, storing it and dispensing it as efficient as possible.
And we will take it one step further, and use refuelling pattern data to highlight trends in fleet demand, and help fleet owners to optimise their refuelling strategies.

We can layer reduced toll charges, weather conditions, road and traffic data on to this, and prove to the fleet owners that the total cost of ownership is not about the price of a truck, or the price of the fuel. We can help them optimise their existing fleet and refuelling strategy, making it green and economically viable, when compared on €/km total cost of ownership.